Full Time
$70-$85k / year USD / Year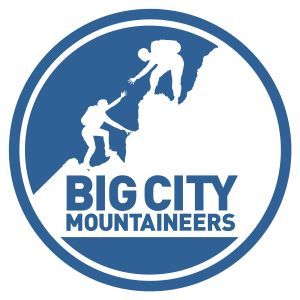 ABOUT BIG CITY MOUNTAINEERS 
At Big City Mountaineers, we work alongside the transformative powers of nature to foster a lasting impact in the lives of youth from disinvested communities. BCM creates opportunities for 12 to 18 year-olds to connect with nature and realize their own sources of strength, resilience, confidence, serenity and joy by providing free, fully outfitted, and professionally led outdoor experiences. BCM's programming culminates in a weeklong backcountry trip, which is often the first time the youth we serve experience the outdoors in such a way. The BCM experience enables youth to take on healthy and relevant challenges and cultivate a connection to themselves, their community, to nature, and to joy.
For over thirty years, BCM's programming has shown staying power beyond the norm, and has come to be a recognized and highly regarded national nonprofit that is supported by a stable operating budget.  BCM is at an exciting point in its history, one that holds great potential and opportunity to reimagine how the organization can best deliver on its mission. Our team includes a dedicated staff, seasonal trip instructors, and volunteers.
Though we are headquartered in Colorado, Big City Mountaineers' regional hubs touch both coasts, and several locations in between. We are located on the ancestral territories the Ute, (Denver, CO), the Sioux and Anishinibawaki (Minneapolis, MN), the Ohlone, Ramaytush, Chochenyo, and Muwekma (San Francisco Bay Area), the Duwamish (Seattle, WA), the Massachusett and Pawtucket (Boston, MA), and the Muscogee Creek and Shawnee (Birmingham, AL).
POSITION OVERVIEW
The Director of Development holds primary responsibility for designing and executing BCM's fundraising strategy. This includes oversight of BCM's individual donor and family foundation relationships and institutional support including grantmaking institutions and corporate donors.
The Director of Development will manage and support BCM's Adventure Fundraising and Events Manager to ensure the organization's in-person and virtual fundraising events and campaigns, as well as BCM's signature Summit for Someone and Adventure for Someone programs meet goals.
As part of the organization's leadership team, the Director of Development will collaborate closely with the Executive Director and the National Program Director to steward the organization's direction and culture. The Director of Development can also expect to collaborate with all staff to best understand and financially support BCM's programming and each region's work.
This role reports to and is supported by the Executive Director, with whom the incumbent will work closely. The Director of Development will have ample opportunity to think creatively and expansively about their work and have a significant hand in the creation of the organization's fundraising structures and systems.  The Director of Development will regularly communicate work progress and goals to the Executive Director and Board of Directors.  The Director of Development will also frequently represent BCM to the external community and hold many outward-facing relationships.
The Director of Development will work out of BCM's headquarters in Arvada, CO.  BCM will, however, consider exceptional candidates that live in one of BCM's other program regions (Seattle WA, SF Bay Area, Minneapolis MN, Boston MA, Birmingham, AL).  No candidates will be considered who live outside of these regions.
ESSENTIAL DUTIES
Organizational Leadership
Collaborate with the Executive Director to set the organization's revenue goals annually and revise goals quarterly
Support and manage the Events and Adventure Fundraising Manager, ensuring success in Summit for Someone and Adventure for Someone programs, as well as in-person and virtual events
Lead weekly Development meetings
Communicate closely with the leadership team (Executive Director, National Program Director) to ensure fundraising efforts effectively support program success and innovation
Participate in Board of Directors Development Committee meetings, represent the fundraising function to the Board of Directors during annual and quarterly Board meetings
Collaborate with program, communications, and marketing staff; to devise strategy alignment and needs
Provide guidance and support to the Executive Director concerning the organization's fundraising activities, especially in donor relations
Represent BCM publicly at events and meetings as needed and appropriat
Grants & Foundation Relations
Maintain a list of existing and potential granting institutions and a grant calendar, ensuring foundations' funding interests align with BCM's work.  Prioritize and select foundations and grant opportunities that BCM will pursue, including the spaces of physical health, mental health, and social-emotional well-being
Network and build relationships with Foundation program officers, government grant administrators, and other staff. This will likely include cold outreach to new institutional funders.
Write LOIs and grant applications which include narratives and budgets, support contracted and pro bono grant writers to do the same as appropriate
Collaborate closely with program team to ensure grants align with program vision and strategy
Manage grant reports, tracking reporting requirements and delivering information to funders in a timely fashion.
Individual Donor & Family Foundation Relations
Craft and oversee donor and family foundation giving strategy, to maintain positive and transparent relationships with donors and family foundations—including recurring donation program, volunteer conversion, planned giving, and seasonal campaigns
Work closely with the Executive Director and Board Development committee to engage donors in appropriate and meaningful outreach
Prospect and conduct outreach to potential new individual donors and family foundations
Administer BCM's donor recognition and acknowledgement plan at multiple tiers of giving, improve upon this plan as necessary
Corporate & Brand Relations
Strategize and execute outreach to potential corporate supporters adjacent to and outside the outdoor industry
Maintain a list of existing and potential corporate supporters, track cultivation activities
Administer BCM's plan for corporate supporter recognition at multiple tiers of giving, work closely with the Executive Director to ensure deliverables are met.
Development Data & Administration
Prepare executive summaries and reports on fundraising activities for the Executive Director and Board of Directors as needed
Work with BCM's accountant to be sure all monetary donations made are accurately tracked. . Monitor all donation and fundraising related information in Salesforce, ensure that development related reports and dashboards are up to date
Collaborate with staff to collect, organize, and keep qualitative and quantitative evidence for BCM programs' success to be used to make the case for support with various audiences
Work with the Executive Director and Volunteer & Operations Coordinator to ensure that all donor acknowledgement activities are completed in a timely manner
WHO YOU ARE & KEY SKILLS TO SUCCESS
Committed to BCM's mission, values, and principles, including principles of Diversity, Equity, and Inclusion
Motivated to increase access to the outdoors for youth from disinvested communities and belief in the power of nature-based experiences
Experienced and accomplished fundraiser: 5+ years leading and increasing the effectiveness of a nonprofit organization's fundraising activities
Hold a track record of surpassing fundraising goals in excess of $1.5M annually via individual donations, foundation grants, and corporate giving
Love for fastidious data management, detail orientation, organization, and responsiveness
Impeccable communicator and compelling storyteller, both verbal and written
Comfortable working with budgets (including the creation and oversight of restricted grant budgets) and financial information and making data-informed decisions
Collaborative spirit, eager to work within and across a small organizational hierarchy
Able to cultivate trusting interpersonal relationships and connect with people across lines of difference
Resident of Denver, CO Metropolitan Area (or one of BCM's program regions)
ADDITIONAL SKILLS & QUALIFICATIONS
Familiarity with the local communities BCM works in, and the natural areas BCM utilizes during its courses
'Personal passion for outdoor recreation and experiences in nature
'Experience working and collaborating with a remote team
Familiarity with Salesforce or similar CRM / donor management platform.
'Experience working in nonprofit organizations the size of Big City Mountaineers
Knowledge of and connections to the philanthropic communities that support – or might support – BCM's work that operate in our current service regions and nationally.
Experience working directly with youth who hold traditionally marginalized identities or who come from disinvested communities, and/or the organizations that serve them.
Undergraduate and/or graduate degrees in relevant or related field
EMPLOYMENT & COMPENSATION
This is a full-time, exempt position, with a starting annual salary range of $70,000 – $85,000 per year. The Director of Development will be eligible to receive medical, dental, and vision insurance within one month of hire.  Big City Mountaineers employees enjoy a generous paid time off policy (over 30 paid days off per calendar year) and flexibility in terms of work schedule. Employees have access to additional benefits after an initial period of employment.
Benefits include:
Health, Dental, and Vision insurance (with options for coverage to be 100% employer paid
34 paid days off per calendar year
$250 annual anniversary bonus
$100 discretionary professional development stipend
Autonomy and flexibility over work schedule
401k program (BCM does not currently provide a match)
Employee Assistance Program
Optional long and short term disability insurance
Optional life insurance, hospital insurance, accident insurance, critical illness insurance
Optional Flexible Spending Accounts (medical, parking, transit, dependent care)
Optional Legal/ID shield
Mileage reimbursement (federal rate) for use of personal vehicle
All expenses paid annual staff camping trip
Pro discounts (usually 40%) on outdoor gear and other member rewards
The anticipated start date for this position is February 20, 2024.
APPLICATION PROCESS
Please submit a resume and cover letter detailing why you believe your experience, capacity, and passions align with BCM's needs to jobs@bigcitymountaineers.org. In your cover letter, be sure to address the following:
Your professional experience working in fundraising and track record of success with individual donors, corporate donors, and grants
Your personal "Why", both in terms of our mission and why this is the right moment and role for you in your professional path
How your personal identity and/or lived experiences plays a role in your motivation and ability to do this work
Please combine both documents into a single PDF file, and use the subject heading format "Director of Development – [FirstName LastName]".  (there are several free PDF creator tools online to help you with this)
All applications must be received no later than December 15, 2023 @ 5:00 pm MT. If we feel you are a potential fit, we will be in touch to schedule an interview; first-round interviews will begin in early January 2023.  Candidates who move on to later stages of our interview process can expect to submit a work sample that showcases their skills writing grants and track record of success in fundraising.
Big City Mountaineers is invested in cultivating a diverse candidate pool and is interested in connecting with candidates whose identities and/or lived experiences are similar to the youth we serve. We understand that our next Director of Development may not have taken a traditional professional path, and we encourage interested individuals to apply even if they don't meet every one of our qualifications listed.